Rejoice
2020

Rid of tactility, Rejoice! attempts to engage in closeness through the internet. The site—an ephemeral, interactive desktop of thoughts, research and documented gelatin bioplastic objects—invite curious engagement with uncanny forms and in-progress thoughts while maintaining a distance.


Online translation of a senior undergrad thesis exhibition cancelled due to Covid-19. Full, screen-recorded run-through available upon request.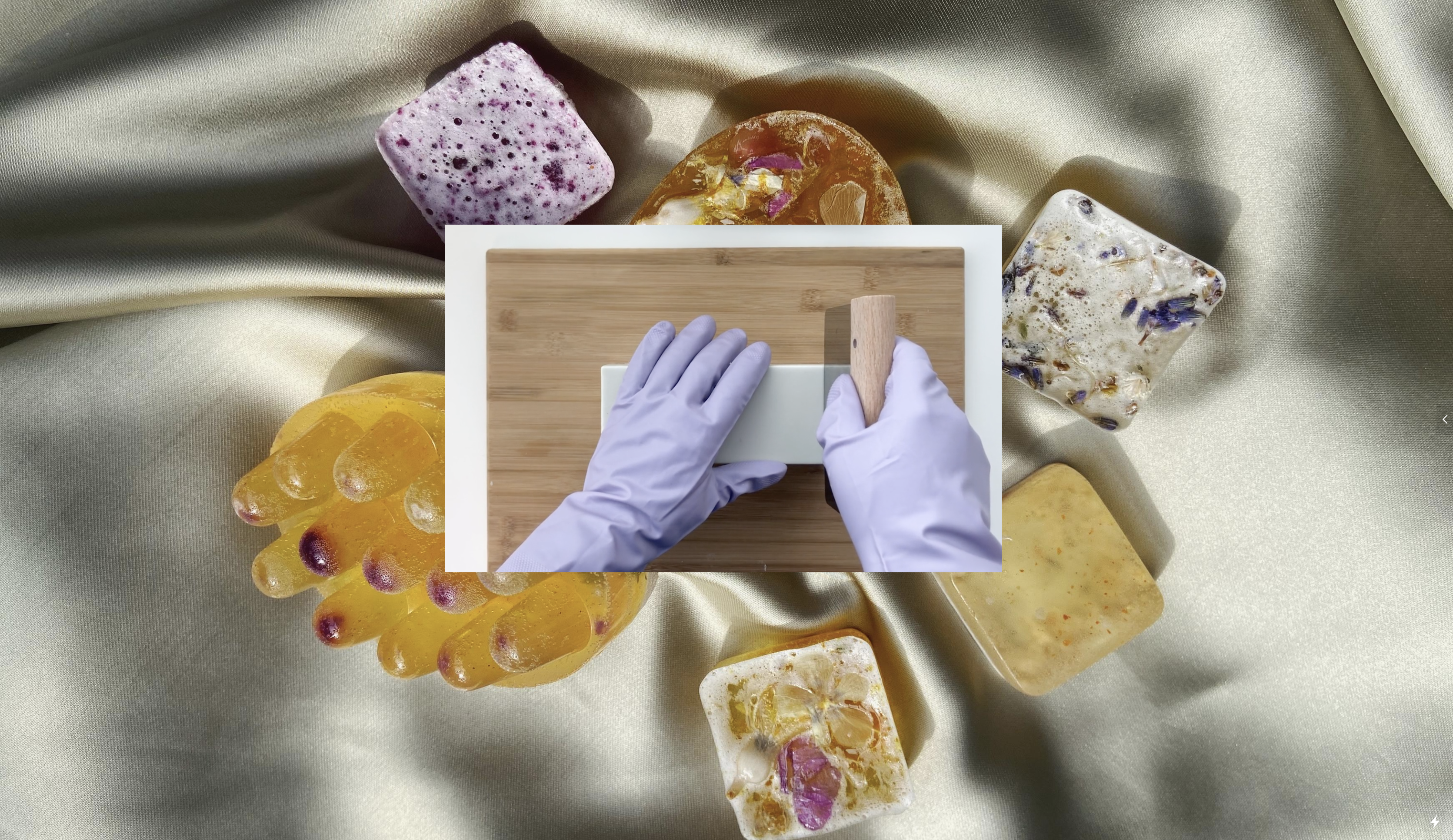 DIY Bath & Body Works Imitation Cold-Process Soap Tutorial!
2019

A satire of Youtube tutorial videos, this work features a cold-process soap making performance to explore ideas of visibly-invisible labour and the flattening of cultural identity through commodification. The viewing-object, molded to be held, leaves a slimy, sweet-smelling residue on the hands that prompts the viewer to wash their hands after using.


Is This Self Care?
2019

AeroGarden, OG Kush Clones, Hemp Growing Mats, Found eCommerce Images

An exercise in gardening following the legalization of weed in Canada.

Di/Die
2018

Found image collage exploring white femininity through the surveilled image of Princess Diana.
With great turbulence, I welcome the froth. Bubbling spheres, trapped gasses in embrace, bring forth the butterflies and the nausea! Unsettle my guts. Lather my organs. Make me understand how I've digested my own subjugation. Sparkling saliva frothing at the mouth, neon acid vomit, I call on you as an unpleasant break in the mundane. Remind me what insides smell like. Let me purge you and dream something better.

Meech Boakye is interested in the political potential of the uncanny, using frameworks of healing, abjection and liminality to understand its historical and contemporary conceptions of Black, trans and cyborg beings. Boakye explores practices gardening, foraging and preparing food both as a form of communal care and as a medium to create disturbances in the mundane. Static and moving image works document process and product in one archival realm as objects in their physical forms are digested in stomachs or decomposed in hot compost.

Boakye's freelance illustration work has been published over fifty times with clients including Spotify, Facebook, Skittles, NPR, VICE and The Globe & Mail.