UPDATED 16.8.2023
GARLIC FEST, 2023


Press Release - 9.7.2023
First Annual Portland Garlic Fest
Organized by Meech Boakye and Jade Novarino

Inspired by the 22 years of Gilroy Garlic Festival featured in the film Garlic is as Good as Ten Mothers, we bring you the first annual garlic festival in Portland, Oregon (not to be confused with the Elephant Garlic Festival in North Plains, Oregon). Are you passionate about garlic? Interested in learning more? Want to share recipes or stories about garlic? Or are you just curious to see what these Garlic loving freaks are up to? Join us at the First Annual Garlic Fest from 5 pm to sundown on July 30th, 2023!

Featuring works by local artists, live music, allium-flash sheet stick and poke tattoos by Brit Abuya and Taylor Ruttenbur, a garlicky potluck, a collaborative love poem to garlic, a showcase of garlic varieties grown by small producers in the Willamette Valley, and a looped screening of the film Garlic is as Good as Ten Mothers by Les Blank. The festivities begin at 5 and go until sundown. Music at 6 pm.

A couple of prints I designed. Other art included a hand carved block print of various garlic varieties; a tote collaboratively made by dyeing in comfrey leaves and screenprinting; garlic embroidery, and more.



Garlic Fest was dreamy, buttery, spicy & overflowing with love.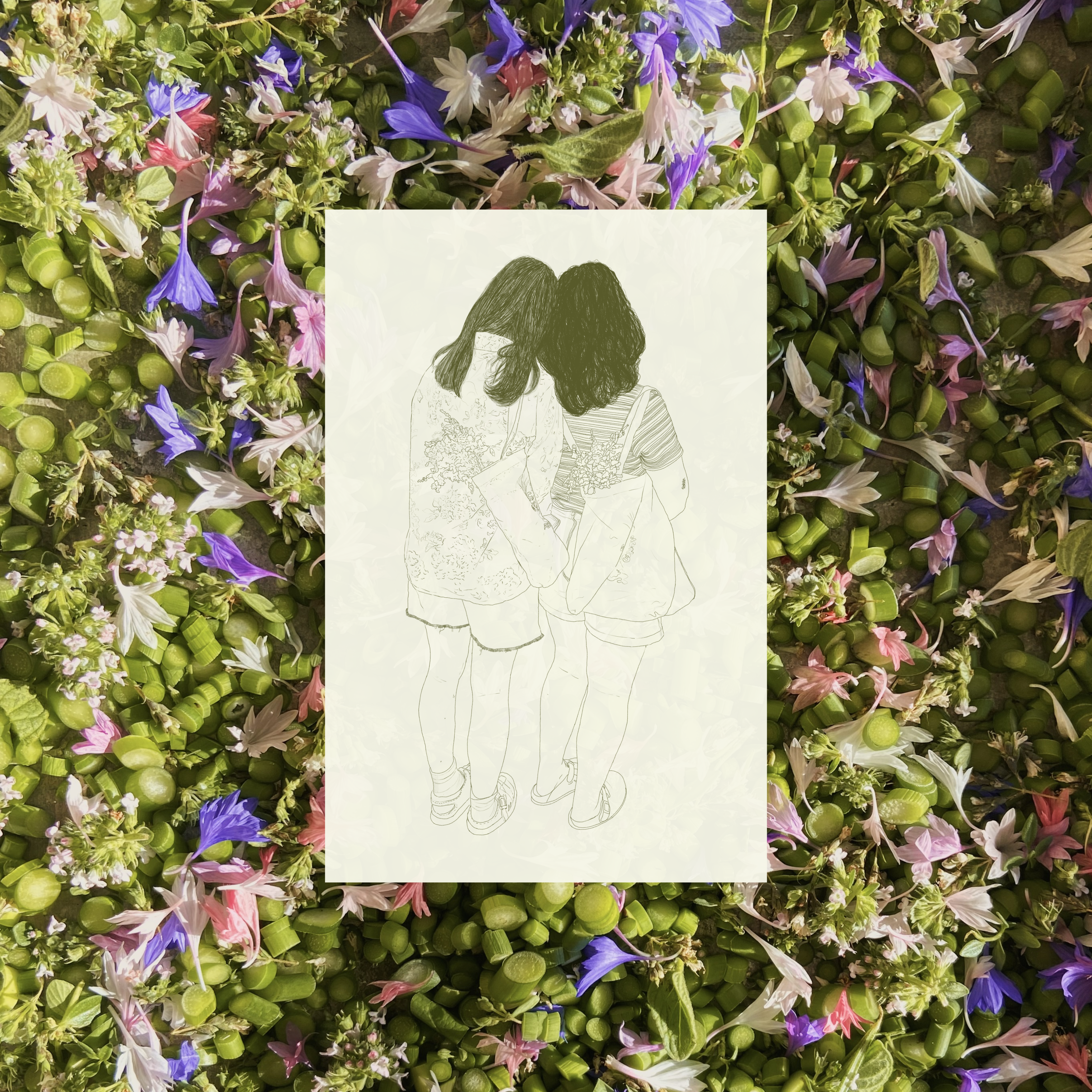 COOKING FOR CAMPO COLLECTIVE'S AGROECOLOGY FILM SERIES, 2021

We watched Chão (Landless) by Camila Freitas on the side of a truck once the sun had set in the middle of a tall grass field. Strawberries and beets drenched in an herbal oxymel brewed on the new moon painted our hands red, and crops in the background mirrored those projected in front of us.

This film followed the Movimento dos Trabalhadores Rurais Sem Terra (MST), who have been "occupying an indebted sugarcane factory's land to press for its redistribution through land reform…[struggling] to conquer a small share of land where they can settle down and live a self-sustainable life, growing agroecological crops in a newly knit peasant community they draw in their dreams."


Still from Chao (Landless) by Camila Freitas.

---

The menu was planned and started in spring with the anticipation of the season's first strawberries. I was provided with borage, voilas, greens of all kinds, the last of the turnips, garlic scapes, calendula, and sought out local honey and whole grain flour.





MENU
Sun Tea

Tulsi Basil, Anise Hyssop, Chamomile, Borage, Blueberries, mineral tap water


Twice Ladled Kombucha
Strawberries, Anise Hyssop, Black Tea, Cane Sugar, SCOBY, fermented for two weeks


New Moon Oxymel
Raw Apple Cider Vinegar, Raw Blueberry Blossom Honey, Bundle of Flowering: Green Sage, Thyme, Lemon Thyme, Thai Basil, Chamomile infused on the June New Moon


Infused Vinegar
Raw Apple Cider Vinegar, Thyme, Catnip, Feverfew, Thai Basil infused for two weeks


Salt Roasted Beets & Strawberry Salad
Chioggia, Golden and Red Beets roasted in a salt dough, Strawberries, New Moon Oxymel


Salad & Douglas Fir Tip Dressing
Speckled Butterheads, Foraged Douglas Fir Tip Syrup, Infused Vinegar, Olive Oil Dijon Mustard


Labneh
Whole Milk Yogurt drained for 16 hours, topped with sage, lemon thyme, viola infused olive oil

Sourdough Focaccia with Labneh Whey
Sourdough Starter, Local Organic Hard Spring Wheat Flour, Local Einkorn Flour, Bread Flour


Calendula & Ginger Wild Yeast Loaves
Calendula Petals and Ginger fermented with sugar and tap water for 4 days, Local Einkorn Flour, Spelt Flour, Edison Hard Spring Wheat Flour, Bread Flour


Charred Alliums
Garlic Scapes, Cipollini Onions & Scallions, broiled


Pickled Kohlrabi
Purple & White Kohlrabi, Summer Savory, Coriander Seed, Cane Sugar, Salt White Vinegar


Pickled Turnips
Pink & Purple Turnips, Flowering Thyme, Coriander Seed, Cane Sugar, Salt, White Vinegar


Thyme Brown Butter Cookies
Lemon Thyme, Unsalted Butter, Vanilla Bean, Eggs, Local Einkorn Flour, AP Flour, Baking Soda, Salt, left in the fridge for 48 hours before baking, topped with Violas and Bachelor's Buttons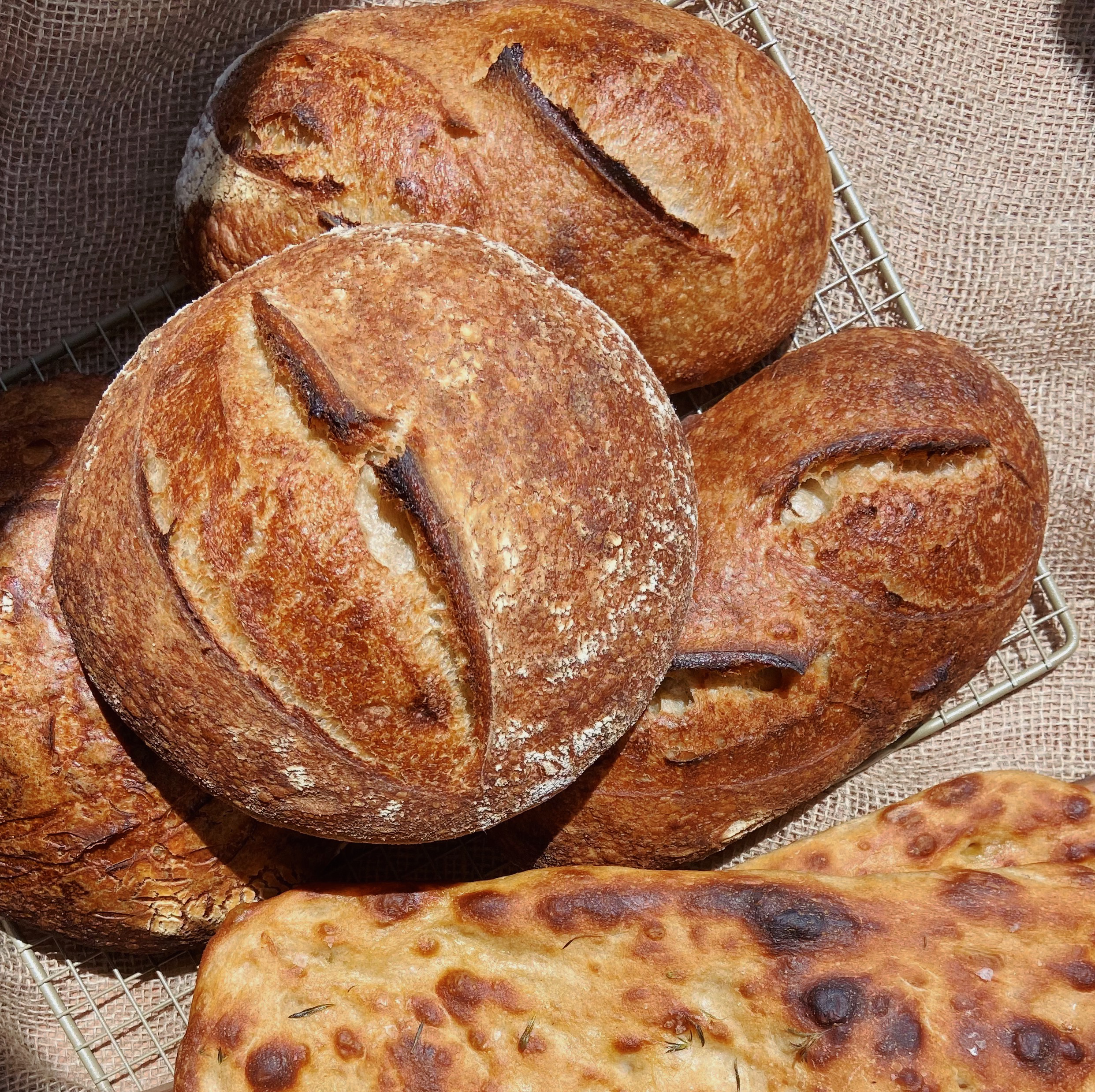 Above: documentation of the day of, below: documentation of tests and prep.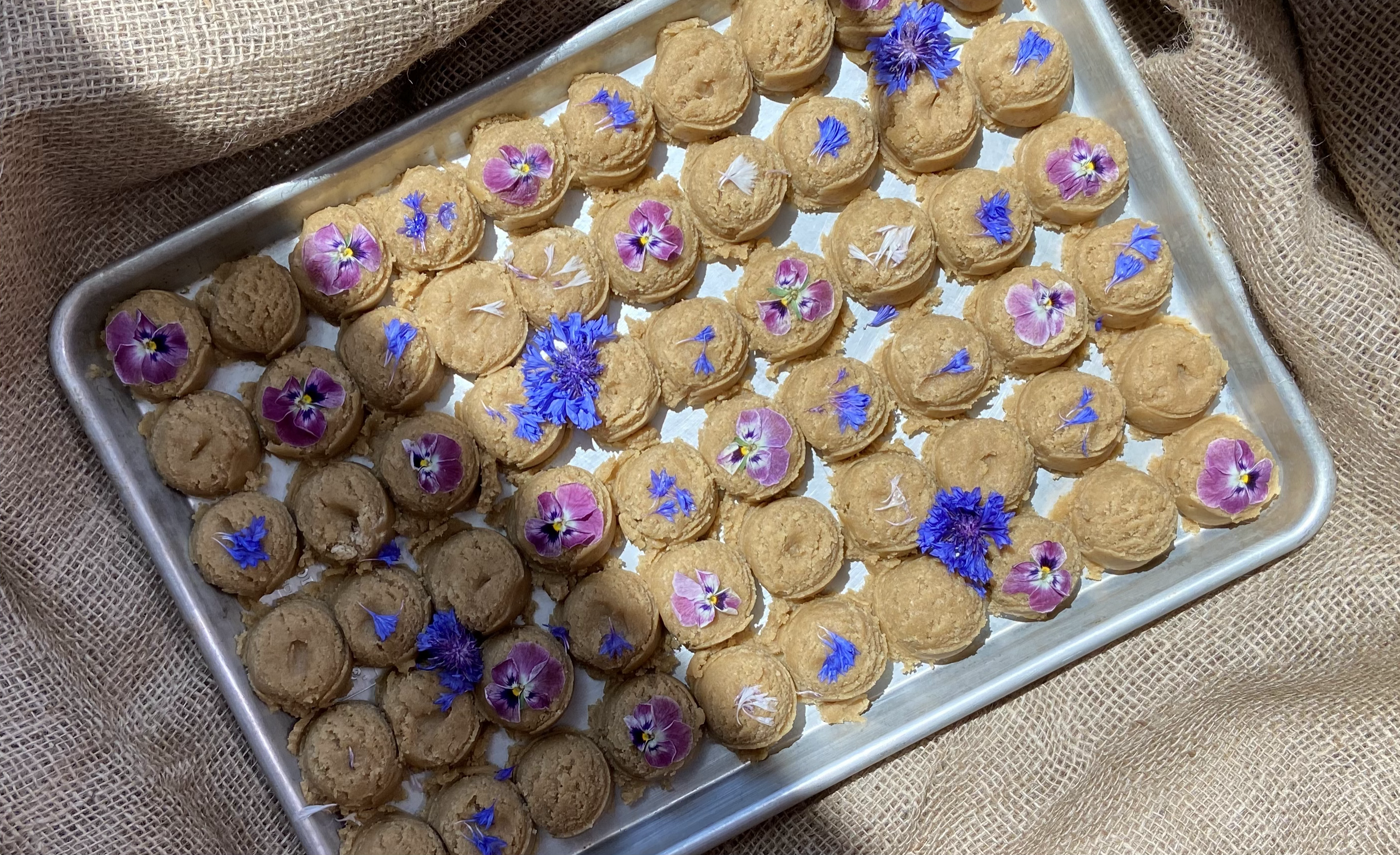 ---

A huge thank you to Stoneboat Farm and Campo Collective for welcoming me so generously. I admire the care taken towards stewarding the land you farm on, sharing the bounty it provides and redistributing funds to local land-based projects.


View the other films as part of this screening series here & here.